(2017-11-01, 07:52)

pasense Wrote: @micha.d,
I just checked the strokes where the signals from your station were involved, and it seem that it is working well. I did this by looking at the list of strokes in the statistics page. I do not know of any other way to check what strokes used the signals of a particular station. As I said above, some more information would be helpful, but it is also possible with what its available, but it takes some time.
The only comment I have regarding your station: it seems you have connected the two H field antennas to channel B and C;  it would be better to shift to A and B. You can see that from the color of the traces in the signal plots below. I copied these from the list of strokes where your station was involved and they show typical signals.
Hi pasense,
I have read that channel A has more noise due to the GPS being close by. So I switched to B and C for testing. I now feel that it does not make much difference, at least with my antenna getting some interference from outside and NOT over the PCB itself. Even soldering a shield into the device did not make a difference: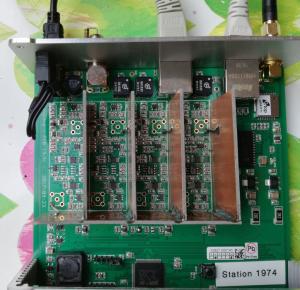 But regarding the evaluation of separate channels I have some doubts. I'm also sure that single channels are used for strokes but signals coming in the direction of one of the two antennas seem to be prefered because there is a better chance to exceed the threshold. I think I can see that effect in one of the diagrams (
https://www.lightningmaps.org/blitzortun...n_id=14731
), but it's most probably still to few data. My antennas are oriented in direction north-east <-> south-west and south-east <-> north-west and I think the green ratio is better in those two directions. To remove this effect we would need some info on the direction of the single antennas to calculate the direction of the signal source and effective signal of that direction. In my next live I'll go for 3 antennas to reduce this side effect.
EDIT: Before someone complains. I mixed up some numbers. The link above is not my station. But I stick to 3 antennas in the next live. Back to efficiency ...
Supporting the first station in India
1974
Stations: