Hi,
Been aware of Blitzorgtung for years and have harbored the idea of running a station more or less since I started the online weather station in 1999:
http://www.howhill.com/weather
.
Trouble is I always seemed to hit the transition period between systems, when the old was out of stock and the new not quite ready. Looks like I've got the timing right this time.  

Yellow blob on the attached map, borrowed from
www.lightningmaps.org
,
[url=http://www.lightningmaps.org/realtime][/url]
is about where the station would be. Looks like it would nicely fill a gap and improve coverage of the east side of northern England. The location is at 1400' and fairly exposed, so I'd expect it to have quite a range.
Does this make the station "very special" and give a priority in the next batch of boards?  Well you never know...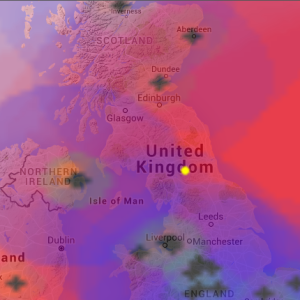 --
Cheers
Dave.