Hi,
I am new station 1645 and I am glad you have told me you are Alston I was going to try and contact you about noise from Althorn and Skelton, I made some more measurements last night and arrived at the following conclusions.
1) My minimum H field noise is on bearing 85/265 degrees, by rotating my ferrite rod antennas around.  If I measure on GE, Anthorn is 265 degrees from me at a range of 97km.  I have attached the line of sight profile.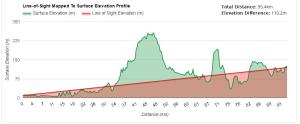 2) Skelton is 245 degrees and 79km.  There is a lot more hill in the way from Skelton, see attachment.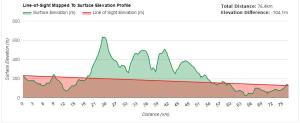 3) Looking at my H field spectrum (Blitzotung recent signals) I can nearly always see a signal just below 20kHz, so it looks like Anthorn might be my main source of noise.
4) Looking at my E field spectrum there is a spike at 38kHz and again 76kHz (smaller), I suspect these are coming from a switch mode PSU, 38kHz fundamental and the first harmonic.
So if I arrange my N/S antenna to have the null at 265 degrees it is working quite well.  I just need to sort out my E/W antenna, not sure if it possible to make a loop with a null to one side and the main lobe to the other?
Alternatively, I will have to look at filtering, either the filter IC or possible a notch filter for 19.6kHz in the antenna connections?
Regarding E field noise, I will try to track down the rouge/noisy PSU and swap it out.  Or again fit the filter IC and cut above 20kHz.
Robin