Hi,
I re-took my spectrum plots with a decent earth on the scope probe and all of the 50Hz noise (+ odd harmonics) went.  The signal strength of the interference is even stronger now compared to the noise.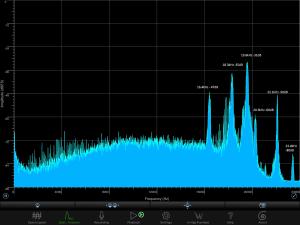 Norvik - 16.4kHz -47dB (25dB over the noise);
Rosnay - 18.3kHz -35dB (38dB over the noise);
Anthorn - 19.6kHz -31dB (42dB over the noise);
Skelton - 22.1kHz -50dB (40dB over the noise).
I can also see two new sources
20.3kHz (Isola di Travolara, Italy?) -60dB (15dB over the noise)
23.4kHz (Rhauderfehn Marinefunksendestelle, Germany) -80dB (10dB over the noise)
(Frequency data from
http://www.mwlist.org/vlf.php
)
Hope my filter ICs arrive tomorrow.
Robin