2018-03-22, 20:50 (This post was last modified: 2018-03-22, 20:59 by Jorgeminator.)
(2018-03-22, 20:27)

dupreezd Wrote:

Quote:That's why I tried a shared network and why windows was mentioned. The blue system is now connected directly to the LAN card of the main PC.


Let's see if I have it correct.
The PC is connected to the Internet via WiFi. Then you have the BO connected to the same PC via the LAN port?
This will not work unless you do some network changes as Win7 only communicates on one interface. Default is Wifi then LAN.
Well, the thing is, it does work. He's sharing the WiFi connection with the Ethernet port, like this: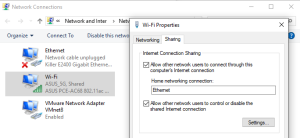 There's just too much confusion in this thread at the moment. The IP's written here are all over the place, for example
198
.
162
.*.*, that range is never assigned locally and belongs to an ISP somewhere. Please check, double-check, and check once more before you write the IP's here. It's impossible for us to troubleshoot if we don't know what IP you actually used.
If you really do have DHCP enabled in the controller's settings you should grab Angry IP Scanner or something similar and scan the range 192.168.100.2-192.168.100.255. For me, Windows 10 assigns the shared network an IP in the 192.168.137.2-192.168.137.255 range, but I guess then that Windows 7 uses the 192.168.100.* range.