(2019-06-03, 19:32)

Alanpenwith Wrote: Hi
I am pretty sure I have been getting interference from an electric fence. It was only abut 20M away from my antennas but has now been moved further away. I have set the gains right down but now hardly ever pick up lightning. Maybe better than swamping the servers with useless signals. 
So A) can anyone identify the trace below as really being the fence and B) would direct earthing of the H field shields help. Or any other tips for that matter.
Thanks
Alan
An electric fence should show as  a pulse lasting ~ 200uS every 1- 1.2 seconds.
Even with 4 fences in the neighbourhood (including mine), that leaves plenty of time between the pulses to detect lightning strikes.
I spent a lot of time trying to tame my fence with limited success. I went solar to get the controller away from the house but I have gone back to mains power for the winter.
The solar did help mainly due to lower power.
I tried all sorts of ferrite filters with negligible effect.
I replaced every insulator on the property.
The one thing I did find out was - my gate crossings go underground. It is the underground runs that cause most of my interference.
Unfortunately, I don't have the option of eliminating all of the underground sections.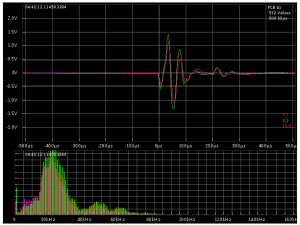 My fence at one stage during the testing.